1750
Births and Baptisms of Slaves
(45)
Names
Owners
Baptisms
Births
Florina
The Widow Barber
Delphia
Coll. Lewis Burwell
Chloe
John Blair Esqr.
James
Coll. Lewis Burwell
Lewis
Coll. Carter Burwell
Hette
Widow Basset
James
Col. Lewis Burwell
March 4th
Venus
Mr Thos. Everard
William
Alexander Finnie
Bristol
Coll. Carter Burwell
Climene
Widow Barber
Matthew
William Timson
Locust
Coll. Thos. Bray
Adult
Pompey
Col. Carter Burwell
Beck
John Bryan
Infts.
Silvar
Docr. Keneth Mckenzie
1st April
Cæsar
Col. Custis
James
Henry Weatherburn
Locust
Col. Lewis Burwell
Nanny
Henry Tyler
Moses
Elyson Armstead
–NB York Parish –
Lucy
Peyton Randolph Esqr
Jane
Col. Carter Burwell
Amy
Mr. Joseph Davenport
Phœbe
Col. Lewis Burwell
William
Andrew anderson
Mars
Peyton Randolph Esqr
May 6th
Charles
Edward Bowcock
Jack
Comissary Wm. Dawson
Belinda
William Hubard
John
Thos Dickenson
Lucy
Doctr. Dickson
Samuel
Nat Crawley
Bridget
Mr. William Parks
Adult
Beck
Mr. Thos Everard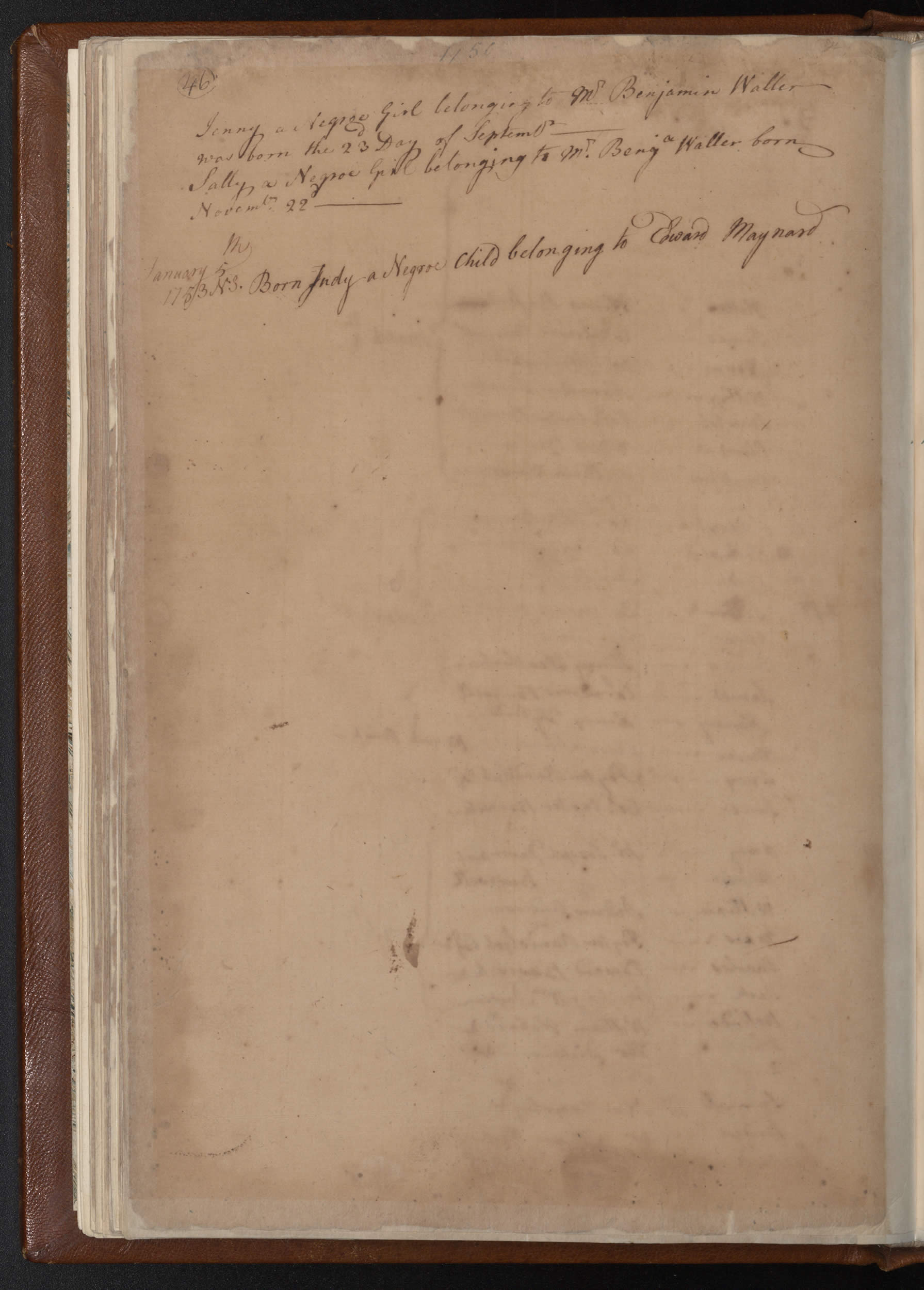 Transcription Modernized:
(46)
1750
Jenny a Negroe Girl belonging to Mr Benjamin Waller
was born the 23 Day of September
Sally a Negroe Girl belonging to Mr. Benjamin Waller born
November 22
January 5
1753 New Style Born Judy a Negroe Child belonging to Edward Maynard
Subject Headings:
Church records and registers --Virginia-- Williamsburg.